Short Answer:
Yes, Rosemary is Paleo!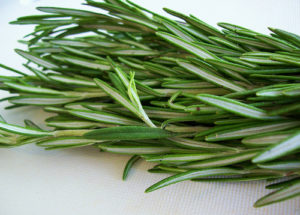 Rosemary Overview
Rosemary is one of the most common herbs used in cooking. It is a woody, aromatic, evergreen herb with needle-like leaves similar to hemlock. This herb is native to Mediterranean and is used as flavoring in dishes and as stuffing for meats like lamb, pork, chicken and turkey. It is commonly used in grilled meats and in chocolate desserts. Rosemary can be used dried or fresh. It has a somehow astringent, bitter taste but its aromatic, piny scent complements with almost any dish.
Together with mint, rosemary belongs to the Lamicaceae family. Rosemary is one of those herbs that have multiple purposes. Aside from its culinary use, rosemary extracts are used for skin application to treat skin disorders. Rosemary essential oil is also used as preservative in the food industry.
Health Benefits of Rosemary
The pleasant fragrance of rosemary herb makes it indispensible in every kitchen. Rosemary contains vitamins, minerals, antioxidants and phytonutrients that have wide range of health benefits. It is a good source of calcium, vitamins A, C and B6, manganese, potassium and iron.
Although rosemary herbs are only consumed in small amounts, regular incorporation in meals will allow deriving accumulation of its benefits. Rosemary has also been used as remedy to alleviate muscle pain, improve memory and boost immune system.
Improve cognitive health memory. Rosemary contains rosmarinic acid, a compound known to improve long term memory. Rosemary is also known to boost cognitive function, improving memory and focus.
Fights fatigue and stress. Carnosol is a compound unique to rosemary. It fights fatigue by eliminating enegy-sapping toxins from the body. It also protects the brain cells from free radicals. The aroma of rosemary alone can help improve mood and relax the mind, relieving stress.
Anti-inflammatory, antibacterial and anti-cancer properties. Another quality of rosmarinic acid is that it has antibacterial properties. Rosemary also contains essential oils cineol, camphene, borneol, bornyl acetate and a-pinene which are also known to have anti-inflammatory and anti-cancer characteristics. Carnosol is an anti-inflammatory compound in rosemary that can reduce inflammation of the muscles, joints and blood vessels. This is an effective treatment for high blood pressure, gout and arthritis.
Boost immune system. The anti-inflammatory and antioxidant nature of rosemary can protect against diseases that can harm the immune system and damage the body.
Digestive support. Rosemary has antibacterial properties that can fight against bacteria such as H.pylori common in the stomach and causes growth of stomach ulcers. Traditionally, rosemary has been used as remedy for indigestion, bloating, diarrhea and constipation.
Pain reliever. Rosemary is also used as analgesic. It has been used to relieve pain such as headaches and migraines.
Blood flow stimulant. Rosemary in nature can act as a stimulant, boosting the production of red blood cells and regulating blood flow
Promotes eye health. Another health benefit of carnosol in rosemary is it promotes eye health by protecting the retina from macular degeneration.
Freshens breath. Rosemary has antibacterial properties that make it a good breath freshener alternative and improve oral health.
Selection and Storage
It is always best to choose fresh rosemary herbs for superior quality and subtle flavor. Fresh rosemary herbs should be stored in clean plastic bags inside the refrigerator. Dried rosemary should be kept in airtight container and placed in a cool, dark, dry storage to keep it fresh for months.
What Experts Say About Basil
"Rosemary-infused olive oildisplayed the strongest resistance to oxidative damage and rancidity, beating out herbs such as thyme, lemon, and basil (although both thyme and lemon improved stability, too)." – Mark Sisson
All you ever wanted to know about Rosemary and Paleo
Mark's Daily Apple. 6 Common Herbs and Why You Should Eat Them (Hint: They Don't Just Taste Good)
http://www.marksdailyapple.com/health-benefits-herbs/
Mark's Daily Apple. Top 10 Favorite Herbs and Spices
http://www.marksdailyapple.com/top-10-favorite-herbs-and-spices/
The Paleo Diet.  Rosemary Tomato Pork Ribs
http://thepaleodiet.com/rosemary-tomato-pork-ribs/
Paleo Porn. Is Rosemary Paleo?
http://paleoporn.net/q/is-rosemary-paleo/
Medical News Today. Rosemary: Health Benefits, Precautions, Drug Interactions
http://www.medicalnewstoday.com/articles/266370.php
Organic Facts. Health Benefits of Rosemary
https://www.organicfacts.net/health-benefits/herbs-and-spices/rosemary.html
The Wold's Healthiest Foods. Rosemary
http://www.whfoods.com/genpage.php?tname=foodspice&dbid=75
Did we miss anything?
Comment below and let us know what you think. Do you agree with our conclusion?
photo credit: yummysmellsca Rosemary